Bed Bug Inspection and Detection Service
Why Dogs?
Dogs use their exceptional sense of smell to locate bed bugs wherever they may be hiding.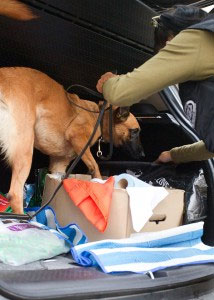 THE BENEFITS OF USING A K9 DETECTION SERVICE FOR BED BUGS
Personal Inspection for bed bugs can be time consuming, pain staking and expensive. This type of inspection also rarely locates the source of a bed bug infestation. Bed Bugs are hard to spot with the naked eye and first instar nymphs and egg clusters are virtually impossible to see.
Highly trained Elite K9s use their exceptional sense of smell to detect bed bugs wherever they may be hiding. This is the only type of inspection that can accurately detect and pinpoint sources of bed bugs. The ability to pinpoint the source of where the bed bugs reside is critical information for proper treatment and control.
Dogs have been used by military and law enforcement agencies for decades to detect bombs and drugs. Dogs have more recently been used to detect termites, carpenter ants, mold, rats, gas leaks, and, in the medical profession, even cancer! Dogs detect things that no human could and are internationally recognized and proven to be the most accurate way of detecting bed bugs.
Our dogs are highly trained using cutting edge training techniques and our internal quality control program includes ongoing training, physical conditioning and plenty of down time and rest to ensure that our dogs are always performing at their best. Our dogs are trained to detect one odour only, meaning our bed bug dogs are trained on bed bugs and viable bed bug eggs only. This ensures that when our dogs alert you know exactly what they have found and where!
Elite K9s can inspect the average apartment, hotel or hospital room in a few minutes and can do so with 95% accuracy. Our dogs can target specific areas and often locate the sources of the infestation which eliminates the need to to treat unaffected areas unnecessarily. Less area treated translates into less money spent on treatment. If the K9 finds bed bugs, you can investigate your treatment options. With early detection there is a greater chance of eradicating the problem which can save you time, resources, energy and money.
If our dogs do not find bed bugs, you will know with greater certainty that your home/building/hotel/hospital etc. is bed bug free, offering peace of mind.


You Tube Video Dodger Free Searching