Our Company
We are dedicated to enhancing quality of life and our training and quality control are second to none. We are an independent K9 inspection provider who specialize in dog training and behaviour. We do not perform Pest Extermination Services. Elite Detection Dogs are industry leaders in the breeding and training of dogs. We are pleased to offer the service of Bed Bug Inspection / Detection by our team of highly trained and certified dogs and handlers.
Elite Detection Dogs was named Entrepreneur of the Year in 2008 by the South Simcoe business area. Elite has over twenty years experience working with and training dogs. We provide professional, discreet and courteous service to all sectors of the population.
Elite Detection Dogs has set the industry standard for K9 Bed Bug Detection Services.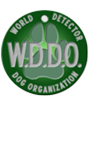 Our Dogs are WDDO (World Detection Dogs Organization) Certified
Third party certified dog and handler teams
Variety of breeds of dogs to accommodate all types of jobs
Large team of dogs to efficiently inspect big scale projects
Internal quality control program
Ongoing training of dogs and handlers to ensure they are always performing at the best